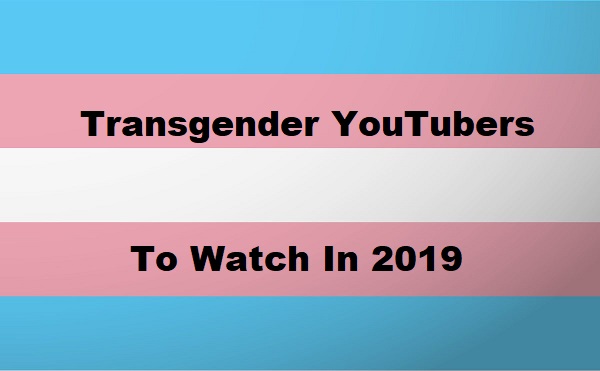 Are you sick of the lack of transgender and content on TV?
You should head over to YouTube as some wonderful transgender creators are putting out incredible content.
Whether you need makeup tips, questions about coming out, transitioning, a roundtable type discussion of current topics, or dating tips you can find it. These transgender YouTubers range in age so there may be one(s) that you relate to better than others. Make sure to support the ones you like by subscribing to their channel and liking their videos.
The best part is it's free, and you can watch whenever you want.   These are some of the top trans YouTubers we recommend you start listening to in 2019. The list is in no specific order. We think you should check them all out and see which ones you like the best.
1. Girls Like Us – Watch The Channel Here
Girls Like Us is an all-trans hosted talk show. They cover a wide range of topics from the highly newsworthy to the deeply personal, all told through the transgender lens. Their mission is to normalize this marginalized community through constant visibility, honest discussion, and ongoing engagement. The hosts, all accomplished, out and proud transgender women are true pioneers and advocates for the trans community. They generously share from their own personal journeys without reservation.
2. Kailani Loren – Watch Here
Kailani Loren's channel shares transition journey, beauty tutorials, story times & more. Kailani's Youtube channel showcased a transition timeline video who's captured the attention of 3.5M views in over a year. Her channel inspired a lot of viewers to be themselves & live their true authentic self. Alongside with transition videos, she lets people into her personal life with interesting story times & real life experiences that she has encountered.
3. Caroland – Watch Here
Caroland is a channel dedicated to help and educate the public on various topics from beauty and fitness to trans issues, pop culture, nutrition and much more. Her channel has been active for over 4 years and has over 100 videos. She covers everything from her transition, dating, beauty tips and so much more. She also has some videos in Spanish which expands her reach.
4. Kenna.N – Watch Here
Kenna.N is a channel that talks about her lifestyle and how she experiences her life while also being a transgender woman. She enjoys sharing all her life experiences. She considers herself a very open person that is willing to talk about anything.
Here are a couple of other transgender YouTube channels to check out if those aren't enough for you ChandlerNWilson, Stef Sanjati, Maya, and SamanthaLux.
If you know of any trans YouTube channels that are must watch, please join our community at TransgenderDate and let us know about them. May 2019 be your best and most fulfilling year ever!