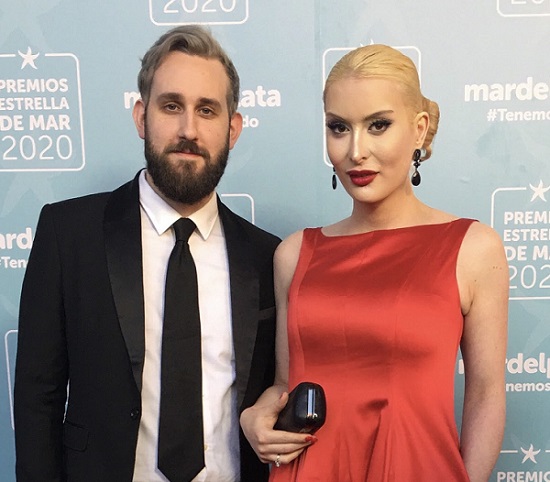 Finding The Love Of My Life Online
Back in 2013, I wasn't sure what I wanted in a partner. I knew I was attracted to women, but I had had little luck in the world of cisgender dating. That's when I found Transgender Date.  
I chatted with a few women, made a few friends (one or two of which I still keep up with on Facebook to this day), and found a few women with whom I had chemistry. However, there was one woman who had everything I was looking for; she was smart, beautiful, spoke multiple languages, shared similar interests, and best of all — she was really into me!
The only catch was that she lived on the other side of the planet. I had never even traveled outside of the United States before. Moreover, I was pretty new to online dating and very fearful of getting scammed or catfished or tricked in some way. 
So, I put this woman through the wringer to prove that she was the real deal. I even asked her to show me her passport. Guys, for future reference, never ask a trans woman to show you her identification; it's extremely rude and one of many obnoxious behaviors that trans women have to put up with on a regular basis. 
Fortunately, she was willing to look past my ignorance. As we exchanged messages and daily phone calls, she shared a lot of her life story with me. I'm a pretty average guy. I have a few stories to tell, but nothing too out of the ordinary. She, on the other hand, had already lived many lifetimes by the time she turned 28.
A Trans Woman Born into the Evangelical World
She was the child of evangelical megachurch pastors in Argentina. She grew up in the church, trying to figure out her identity while everyone around her spit venom at the LGBTQ community. Though she started her transition quite young, she had to be extremely careful. In the church, she was only accepted as long as she remained somewhat androgynous and "low key."
As she became a teenager, she wanted to take on a greater role in the church. Over time, she became the primary worship leader. At this point in her life, she had several goals. First, she wanted to fully present herself as a woman and be accepted by her friends and family. And second, she wanted to drag her family's church into the 21st century. 
So, she slowly brought progressive music and ideas into the worship services. This, in turn, boosted membership among the youth and LGBTQ community. She even recorded an album while performing in front of thousands of passionate followers. Unfortunately, all good things must come to an end.
The more conservative segments of the church pressured her parents to subdue her. Meanwhile, rival pastors criticized her family's church on radio and television for allowing a "transgender woman" (not the words they used) to lead worship. So, her parents sent her to live with her fundamentalist Christian sister in Texas while they managed the PR crisis.
At this point, she had hit rock-bottom. Her sister cut her hair, burned her clothes, and tried to force her to live as a man. The pastor of the local church prayed over her to cast the demons out of her body. Her sister took away her passport and cut off all contact with the rest of the family. For months, she suffered physical and psychological abuse.
Eventually, she was able to reach her mother and beg her to return to Argentina. However, when she returned, she was not going to hide in the shadows any longer. She presented herself as a woman at church without any shame. Naturally, this led to more unrest in the conservative segments of the congregation. Not wanting to hurt the family business any further, her parents once again sent her away, this time to a Christian college in Australia. 
Her family told her: "change or don't come back." Since changing wasn't an option, they cut her off financially, leaving her in the streets of a foreign country. Like so many other trans women abandoned by their families, she was forced to escort to survive. 
Eventually, escorting allowed her to pay for the surgeries she wanted. It also helped her meet a man who promised to take care of her. They lived together for several years before his religious family discovered that she was transgender. This discovery led to an ultimatum: it's her or us. He chose his family, leaving her out in the streets once again.
Members of her family's church continued to harass her online. When they discovered that she was escorting, it led to further torment. It gave them a weapon to vilify her and the trans community as sinful, amoral people.
Nonetheless, she persevered. Determined to find a partner who would accept her for who she was, she joined Transgender Date. As she tells it, she saw my picture and said "I'm going to be with him." Within six months, we were living together in the United States. The rest, as they say, is history.
Our Lives Since Meeting Online
We lived together for several years, traveling the world and living as digital nomads. In 2018, we got married and decided to return to her home in Argentina. Her family had forbidden her from returning for nearly a decade, but she decided that it was time to come home.
Now, we live happily in Buenos Aires, Argentina. I'm a writer and my wife, Isabella, found success as an actress and singer in the theatrical world. If you speak Spanish, you can even read about her success story right here. 
Our story is unique, but there are many others like us who have Transgender Date to thank for our marriage. For those who have doubts about TG personal websites or transgender websites in general, don't worry. Transgender Date is a safe place to find the right person for you. Even if you don't find true love, you're bound to find a few friends along the way!
If you are ready to give only online dating a try get your profile HERE.
When Matthew is not spending time with his beautiful wife Matthew reviews films on his site Philosophy In Film